Enjoy a full day of relaxation
The New Moon Spa & Salon is a one of the the largest destination spas in Northwest Arkansas and the Ozark Mountains. Comforting, private spaces surrounded by the sights, sounds and smells of Crescent Garden create a rejuvenating environment year round. New Moon is located on the garden level of the 1886 Crescent Hotel, a member of the prestigious Historic Hotels of America.
Crescent Hotel Pool
Relax Year Round...
Relaxation can be expected on any visit to the New Moon Spa.  Guests of the hotel and spa clients can enjoy the added benefit of spa relaxation spaces on the garden level.  These spaces include but are not limited to Infrared Sauna, Hot Tub, locker room, and The Crescent Hotel Pool. Hotel Guests and New Moon Members have access to the Fitness Room with two Peloton bikes and an elite Woodway treadmill.
Hot Tub and Spa Lawn
Bring your swimsuit and secure an appointment to get into the hot tub.  Guests find it really nice and comfortable with all the jets.  Reservations are for single parties and are made through the spa during operating hours: 479-253-2879.  Hotel guests can enjoy the Hot tub after 7PM. The Spa Lawn overlooks St. Elizabeth's Catholic Church.  Check out a yoga mat at the spa desk to create your own movement or just relax in an Adirondack chair and look over the mountain views.
Things To Do...
Spa Living Room with Infrared Sauna
A great indoor space to casually gather, read or enjoy a warm cup of tea.  Access to the Locker Rooms is here along with the Infrared Sauna.  Sauna reservations are made through the spa: 800-599-9772 or direct line 479-253-2879.
Spa Activities & Services
Leave time to enjoy services focused on your well being.
Nothing can top a relaxing pedicure or signature couples massage.  Spa guests love the natural light from the windows, to protect against a closed in feeling.  Even with the windows there are curtains and blinds, so one is able to relax.  There are also spa activities included in your resort pass.  Enjoy spa discounts, Yoga, Peloton Bikes, Woodway Treadmills and access to our hiking trails.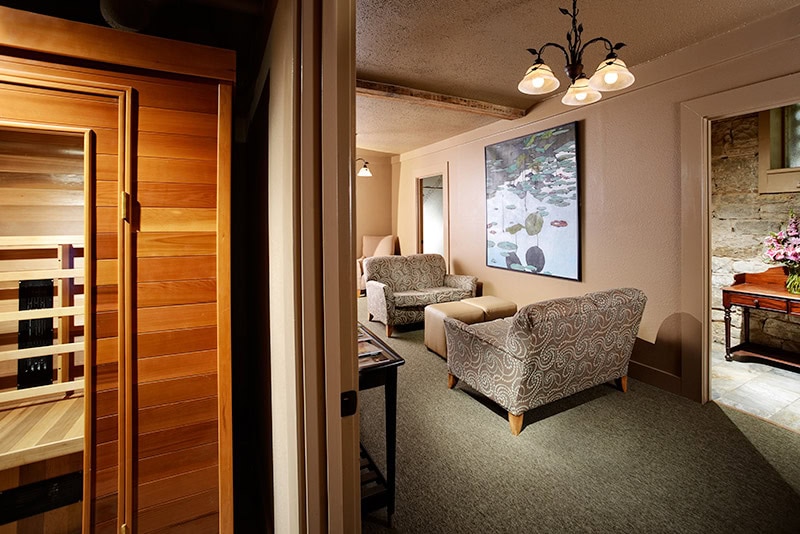 Find yourself in the New Moon Spa...
Crescent Hotel Pool
The Crescent Hotel Pool is available to hotel and spa guests. Changing area and towels provided.
Daily 8am-10pm
Spa Team
Our spa team cares about your health and wellness.  Spa hosts are welcoming and We have amazing stylists and masseuses who show great attention on areas clients want to focus.  We often hear "The best massage I ever had".