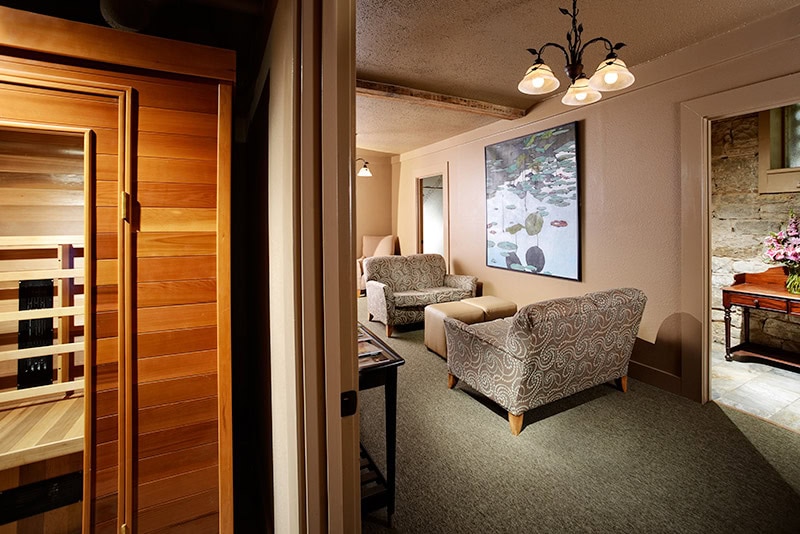 Relaxation Room
When you arrive to the New Moon Spa, sit and enjoy our spacious relaxation room. A great soothing place to relax before or in between spa services. Comfortable sofas, showers, lockers, refreshments and an infrared sauna are available for spa guests. Robes, towels and slippers are also available at the spa.
The Infra-Red Sauna is a private unit for up to 2 people and offers many health benefits. This is complimentary to all spa and salon guests. If you are not having any services with us, you can reserve the Infra- Red Sauna for 30 minutes for $30.
Please call to reserve the Sauna: 800-599-9772 or Direct Line 479-253-2879
Crescent Hotel Pool
The Crescent Hotel Pool is open from 8:00 am to 10 pm for hotel and spa guests. There is a dressing area and towels are provided.
Hot Tub & Patio
Just outside the spa doors, unwind in a natural outdoor setting overlooking the Crescent grounds. The Hot Tub is a complimentary service to all spa and salon guests. and can hold up to 5 guests. During Spa hours, the hot tub is exclusive for spa guests. Grab a Cup of Nu Java or an Aveda comforting tea and sit outside and enjoy the spa patio.
Please call to reserve the Hot Tub at 479-253-2879.
The Garden Overlook
Just past the spa patio, is a quaint space made to relax and take in the views on adirondack chairs overlooking the Crescent grounds. Treat yourself to a morning stretch provided by the Crescent Resort Activities, view the daily activities calendar.
Spa Boutique
Wander and browse our lines of skin and spa products or relax inside as you await your service. New Moon carries a full line of Aveda and Bare Minerals for both men and women as well as OPI Nail Polish, Boca Terry Robes, Pre de Provence Soaps and More. Open to all guests of the Crescent Hotel, the boutique is a favorite place to enjoy a cup of coffee or tea and ask our friendly spa staff about our skin tips.